(Weeks 3 and 4) Mérida and Valladolid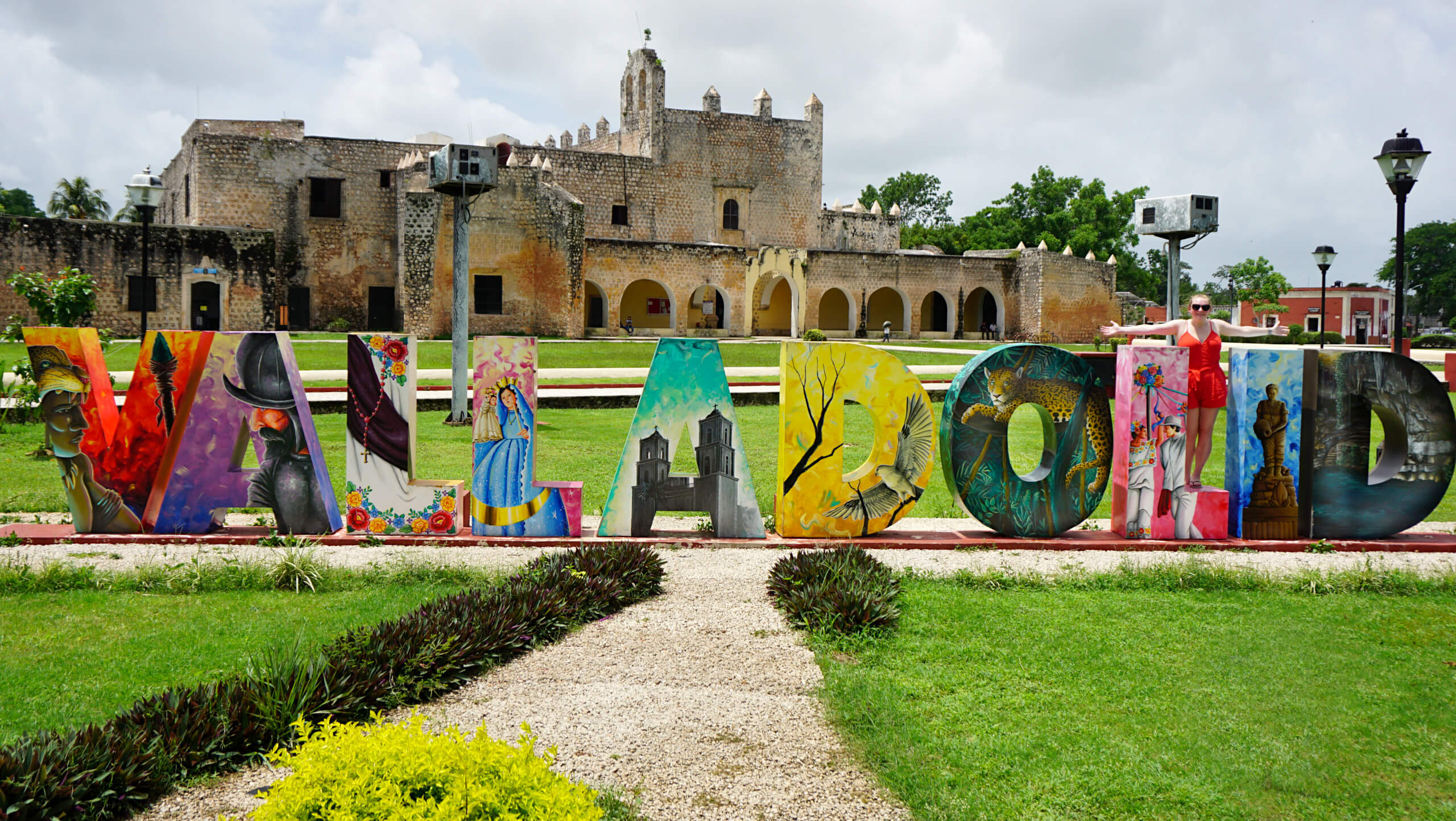 Some of the links below are affiliate links, meaning, at no additional cost to you, I may earn a small commission if you click through and make a qualifying purchase.
After 2.5 weeks on the Caribbean coast of Mexico, we were ready to head inland. We wanted to explore a city and get away from the business and harshness of tourist resorts. With a rough plan to do a loop from Playa del Carmen to Mérida, Valladolid, Holbox and back again, we set off on the 4-hour bus journey!
Mérida
We'd been checking the weather forecast for Mérida for about a week before setting off. And, we were slightly worried given that the daily highs were typically between 35 and 37 Celsius. I was sure I would melt. Or worse, not go out and spend the whole time laying under the air conditioning unit in the room begrudging my pale skin and lack of heat tolerance. However, I needn't have bothered worrying. Our week in Mérida coincided with a week of wet weather and Caribbean storms!
But, we didn't let that deter us. Within a day of arriving we extended our hostel booking from 2 to 7 nights to take several day trips (the huge king-sized bed and pool also helped convince us to spend longer at Nomadas Hostel!). We've quickly learnt that having days where you do nothing and have no expectations of yourself are as important when travelling as weekends off are when working. Being on the go is exhausting!
Mayapan & Cenotes
Our first Mérida excursion was on a group tour to the Mayan city of Mayapan and then three nearby cenotes (natural freshwater sinkholes). We were initially grateful for the group tour aspect as we had easy transport to the ruins and cenotes, as well as a bilingual guide. But, it wasn't long before we realised why we always prefer to do these things by ourselves!
Between the limited time at the ruins and our guide taking three phone calls whilst trying to explain the history, we did however manage to enjoy the various parts of the site! Mayapan is one of only a few Mayan ruins where you can still climb the stairs of the pyramid. Although, this is no mean feat as the steps are steep and not in the best condition being around 1000 years old! But, the views at the top over the dense jungle as far as the eye can see certainly make it worthwhile!
After the Mayapan ruins, the next stop was a set of three cenotes. The entry fee included the use of bikes to move from one cenote to another. The other option was the less ethical donkey-pulled train, which was out of the question for us. As beautiful as riding bikes through the jungle to underground cenotes sound, the day was only about to get worse! Having worn trainers since I knew I'd been climbing up a stone pyramid and riding a bike in the jungle, I was unprepared for the walk from parking the bike to the cenote entrance. Once, I'd got wet from the first cenote, I didn't want to put my trainers back on, so rode barefoot and then got stung by a fire ant (there were tears)!
All in all, the cenote part of the tour was rather disappointing. As beautiful as the cenotes were, they were crowded and there was nowhere to leave our things. So, after visiting all 3 cenotes our bags and clothes ended up soaked through. Plus, we were constantly worried that someone would have stolen our things! If you want to visit cenotes in Yucatan, I'd recommend hiring a car and doing a DIY tour!
Progreso
When I saw that Progreso, a town just 40 minutes north of Mérida, was home to the world's longest pier, I was confused. I immediately found myself on the Southend pier website. Like every child of the home counties, I'd grown up knowing Southend as having the world's longest pier! But alas, Southend is home to the world's longest pleasure pier, and indeed Progreso has the longest pier, full stop.
I had to visit. I proclaimed to Adam that we would be part of a very elite (as I called it) group of people who had visited both the world's longest pier and pleasure pier! It was fate as I love going to Southend for the 2p machines! Which, Progreso sadly did not have! But, it did have an actual sand beach, was in the Gulf of Mexico and not the Thames Estuary, and had water actually worthy of swimming in!
After taking the 21 peso (21p) bus from Mérida, we immediately headed to see the pier in person! It was long – 6.5 km in fact, dwarfing Southend's 2.1 km! We also got to visit El Corchito eco-park. Here, we swam in the cenotes to cool down from the heat of the day and got to see some racoons and fish!
Progreso is usually exceptionally busy in the summer as cruise ships dock on the pier bringing 1000s of tourists. But, with the pandemic, there have been no cruise ships for over a year. And, the town is definitely suffering as many shops were closed and the open restaurants had reduced menus. Hopefully, things are looking up for Progreso!
Uxmal
The last of the three day trips was to the archaeological site of Uxmal Mayan ruins. The site is huge, but, apparently, to help maintain social distancing they have closed off most of it and you have to stick to a set path around about 20% of the ruins. I mean it's counter-productive af, but I tried not to complain as we are lucky to be travelling. (But I still begrudge paying full price for 20% of the product!)
Nevertheless, the ruins were spectacular! The cream of the crop was the viewpoint over the main pyramid towards the end of the loop. We had arrived at the viewpoint just in time for the daily, rainy season downpours! After hiding under a tree until the rain eased, we saw the last of the ruins and headed back to the bus stop. Three people were waiting already but the next bus wasn't for another 2.5 hours! After trying to flag down a taxi, trying to order an Uber (both unsuccessfully) and realising the nearest town was a three-hour walk away, we resorted to hitchhiking! Luckily, a lovely Mexican couple (who spoke no English) dropped us off in Mérida. Saving us several hours and many pesos!
Valladolid
Valladolid is just a 2-hour bus ride from Mérida, where we spent three nights to have two full days of exploring. Nothing reminded me that I might miss some home comforts than when we checked into our room at Hostel Casa Xtakay and I came running out of the bathroom, bottle in hand, shouting 'Adam, there's shampoo! Proper shampoo!' After 3 weeks of shampoo soap bars, it was a luxury worth indulging in!
On the first full day, we spent the morning exploring the town. And honestly, Valladolid was everything I'd expected Mérida to be – colourful, cute and colonial. We wandered the small streets finding churches and squares, boutique stores and monasteries.
Another gem of Valladolid is Cenote Zaci – located right in the centre of the town but giving you the feel of being in the middle of the jungle. We managed to squeeze in an early afternoon swim (although I was not happy at the number of fish – I prefer to swim alone!). Then, it was back to the hostel to watch the highly anticipated England-Scotland game (yeah, you remember that 0-0 game… ). But don't worry lads, it's coming home (I write the night before the final)!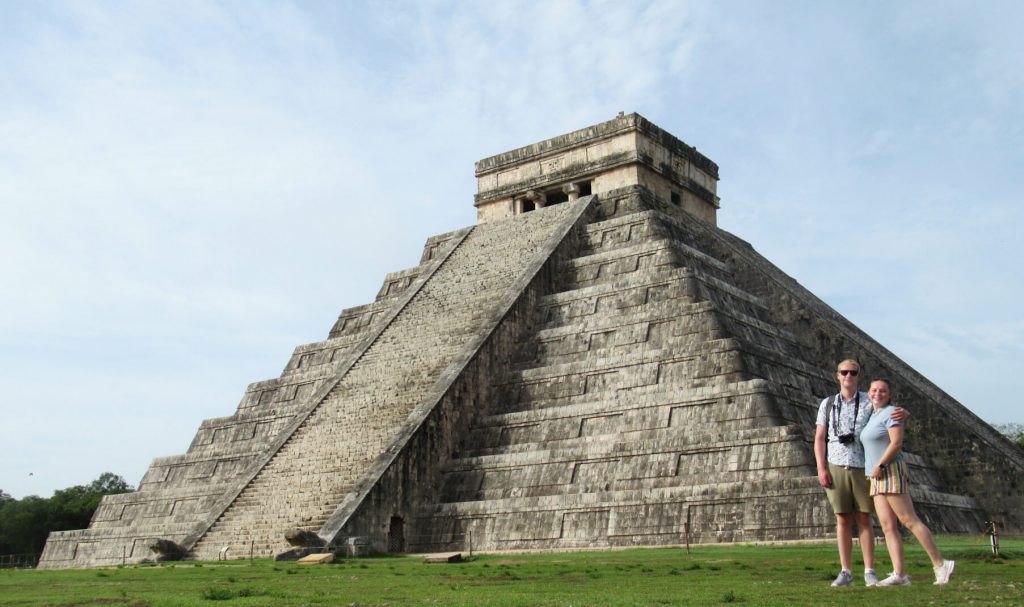 Chichen Itza
Our second (and last) full day in Valladolid saw us visit Chichen Itza – another Mayan ruins site. But this one has the accolade of being one of the modern wonders of the world. It was my second world wonder (after the Great Wall of China), but Adam's first. So, we have a few more to go…
Unlike Uxmal, the whole of the Chichen Itza site was open and the main pyramid is most definitely spectacular and worthy of its world wonder title. We had arrived when the site opened at 8am to avoid the crowds. But, this luckily also saw us avoid the 1000s of vendors who had just started setting up for the day. By the time we were leaving a few hours later, every path was lined with vendors (aggressively) selling t-shirts and souvenirs! It was like being at a theme park where there's more shops than rides! But, at least the rides (ruins) were bloody amazing!
From Valladolid, our next stop was Holbox! And, after 10 days or so inland, we were ready to get back in the sea!