(Week 20) San Miguel de Allende & Guanajuato City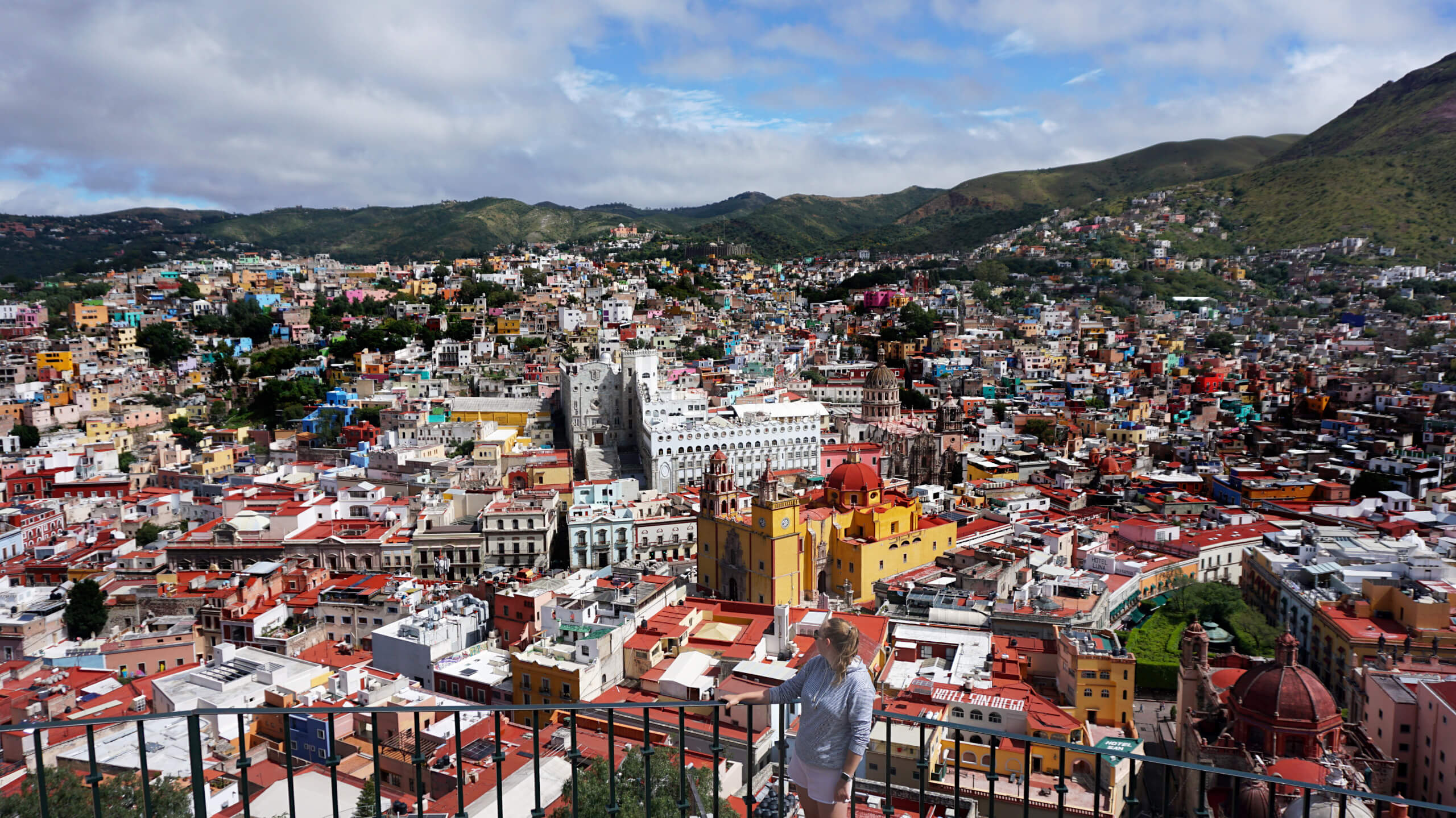 My time in San Miguel and Guanajuato happened to be my last week in Mexico after 4.5 months. I didn't plan to say goodbye so soon or so suddenly. But, the luxury of my current nomadic lifestyle is being able to go where ever, at the drop of a hat.
While I was sad to leave Mexico after a better 20 weeks than I could ever have imagined, the last week was as action-packed as the last 19! Seeing Mexico off in style…
San Miguel de Allende
The journey to San Miguel was a luxurious albeit slow one. Apparently, we had discovered the business class of buses – reclining seats, leg supports, individual TVs, chunky dividing armrests – the works. Which was nice since the journey ended up taking over 6 hours due to an overturned concrete lorry.
San Miguel de Allende is a city strangely popular with North American ex-pats. This is, even though it's in the middle of nowhere – hours from both Mexico City and Guadalajara. As a result, there's a much more western feel to the town. Along with a large collection of bars, restaurants and cafes to suit the demographic.
My two full days in San Miguel were spent exploring the city from the botanical gardens – home to the largest collection of cacti I've ever seen – to taking lots of photos of the cinderella-esque church in the centre. But, largely there isn't much to do unless you want to take a costly taxi out to some hot springs or ruins.
To be honest, I don't get the hype about San Miguel. Sure, it's pretty. But, it feels very superficial – almost as if it's been made to look rustic and colonial, like a film set. San Miguel isn't anything special. There's plenty of other pretty towns. There's also plenty more towns with lots of activities to do too. Spend a day, two at max, then move on.
DETAILED POST > > > Visit the Mirador of San Miguel de Allende for City Views
Guanajuato City
After San Miguel, I travelled a couple of hours further northwest to the capital of the state of Guanajuato – Guanajuato City. A town that, in my opinion, is prettier and cooler than San Miguel. With its colourful buildings climbing the sides of the hills, Guanajuato is just beautiful.
The first day was spent exploring the city, visiting rooftop bars and being mesmerised by the colours all around! For just a few pesos you can ride the funicular up to the city's best viewpoint.
DETAILED POST > > > Ride the Guanajuato Funicular for the City's Best Views
Climbing Cerro de la Bufa – a nearby rock formation – with panoramic views of Guanajuato was next up on the agenda. The information I'd gathered online was that this was about a one-hour walk from the centre of the city. But, it soon became clear that instead, it was a one-hour walk to the start of the trail.
The route up was mostly flat until the last section, which required the use of all 4 limbs to lift myself up rocks that were quickly increasing in size. Fortunately, the view from the top was more than worth it! Despite being early October, the temperature was still in the mid-twenties. And you could sit for hours enjoying the view of the city. Especially, since this seems to be very off-the-beaten tourist path and the whole time we were the only people at the top!
The way back down should have been quick and simple. Once we were down the near-vertical rocky section, it's pretty much a flat path all the way back to the road. But, Adam had other ideas and wanted us to take a shortcut – we'd not taken this route up as reviews had said it was steeper. And, steeper it was indeed – as well as being very loose gravel-like rock. The kind that I hate walking down.
It was a disaster. Aside from walking very cautiously and slowly, I also went flying 3 times. Which, resulted in my hands and bum being cut to pieces and full of dirt and rock. After a lot of tears, the day ended with me having to perform minor surgery on myself with tweezers, a safety pin and an antiseptic wipe to remove the debris implanted in the palms of my hands!
Goodbye Mexico!
After Cerro de la Bufa, we had one more full day in Guanajuato. A day of rest and recovery – and to cement our plan to travel to Guadalajara by booking travel and accommodation. At this point, we planned to spend roughly one more week in Mexico and then fly to the USA.
As we sat down to book the next leg of our journey, it was quickly clear that neither of us were that excited for Guadalajara. We were ready for something entirely new. Plus, when we looked at flights to the USA – the cheapest ones were either the next day or in a weeks' time. And, considering we spend about £70 a day (£350 a week) in Mexico the cost of staying adds up pretty quickly.
So, by cutting our time in Mexico short by one week we were effectively saving money. Our next issue was whether it would even be possible to get to Mexico City – and get a COVID test – in the next 27 hours. Guanajuato is at least 5 hours by road, and after our delays reaching San Miguel, we were apprehensive about missing our flight due to traffic. Unsure what to do, we took the decision out of our hands and used a random answer generator.
Guadalajara or the USA. The app said the USA.
With our chill day now aborted, we had a lot to do. To make it to Mexico City with a good cushion, we were getting a night bus at midnight. We needed to pack up our bags ready to fly – liquids organised, electricals charged, and everything we needed in the next 24 hours easily accessible.
We arrived in Mexico City at just after 5am. I've never got the first tube of the day before but I came here for new experiences right?! With our bags in storage lockers in the airport, we set out in search of a cheap COVID test. Which, was more difficult than expected! But, finally at 9am we had an appointment – my first ever COVID test – and someone else would be doing the swab holding, unlike in the UK. Luckily, it was negative – I was so relieved! All that stood between us and the USA now was several hours of waiting and a 5-hour flight!