(Weeks 15 to 19) Puebla, Mexico City, Toluca & Taxco
Somehow, I always seem to go on holiday in September each year. Last year it was Turkey, the year before it was the Lake District, and the year before that was Spain. And, well this year is a perpetual holiday – but sometimes you need to take a holiday from your holiday and do something different. So, I did!
September started in the city of Puebla – with its colonial buildings and influence – before spending a couple of weeks in Mexico City. Here, I experienced my first earthquake as well as Mexican Independence Day and the familiar feeling of a bustling city.
From Mexico City, I then visited the city of Toluca – to climb into the crater of an extinct volcano – followed by the beautiful city of Taxco! Taxco was the destination of 2021's September holiday in a beautiful hilltop hotel. From Taxco, it was back to Mexico City for my birthday and the most magical hot air balloon ride! A busy but incredible month!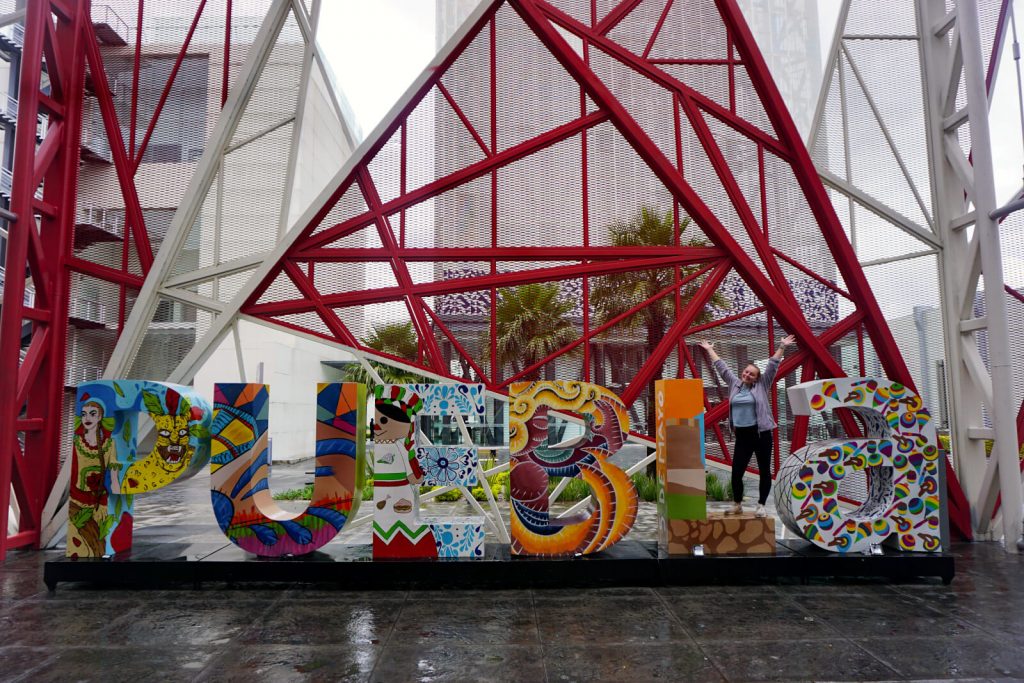 Puebla (in the state of Puebla)
I only had two full days in Puebla and it rained pretty much the entire time! But, when you're short on time you just have to crack on, and that's exactly what I did.
The first day was spent exploring the sights of this colonial city. The grey skies and constant drizzle did kind of take the charm away though. But, in the drier spells of the day, it was easier to see why the city is so popular with tourists. My highlight of the first day was the cable car that offered panoramic views of this HUGE city. There's so much more than just the historic centre, but unfortunately, that was all I had time to see.
DETAILED POST > > > Puebla's Cable Car (For Panoramic City & Volcano Views)
The second day, I took a free tram out to the suburb-y town of Cholula to visit the archaeological site of ancient pyramids and tunnels. Unfortunately, the site was closed – and I didn't find out until I got to the site entrance – as Puebla was in Mexico's red zone on the COVID traffic light system (equivalent to Tier 4 in 2020 UK). Instead, I wandered around the town as the first tram back wasn't for another couple of hours.
Two days in rainy Puebla was certainly enough for me. While I'm glad I've seen the city, I'm not sure I'll be back in a hurry. Although, perhaps my judgement is clouded by the fact that our 250-peso a night (£9) hostel room had a leak in the ceiling. Meaning, that I had to listen to the drip of water onto the concrete floor all night long, for three long nights!
Mexico City (in the state of Mexico City! Part 1)
After the leaky ceiling hotel, there was only one option… A nice hotel room for a few nights! The Hotel Ritz on Mexico City's main pedestrian street, no less!
Mexico City had an air of familiarity to it. The first big city we'd visited in Mexico – others were huge and sprawling, but Mexico City was huge, sprawling and packed with people. I felt like I'd spent my whole life training for this moment. I was ready for the dodge-and-race at crossings, I knew how to move quickly through the crowds of slow walking people on pedestrian streets, I knew how to avoid the many street sellers! The city girl inside me was thriving!
One of my highlights of those first few days in Mexico City was the Museum of Memory and Tolerance. Although, a more fitting name would be the Museum of Genocide and Discrimination! The museum aims to educate and immortalise genocides such as the Holocaust & those in Guatemala and Bosnia, so they do not happen again. Another great museum was the Museum of Torture – full of instruments used across the world through the ages. Dark and fascinating, these are my kind of museum. Ancient history just doesn't have the same appeal to me. And, to be honest, I found Mexico City's National Anthropology Museum a bit boring!
The second weekend in Mexico City, we treated ourselves to another hotel stay. This time, in the Roma Norte district at Hotel Century. Absolutely worth it for the fact that the room had a massive bathtub – which, was glorious after almost 4 months of showers of varying quality and temperature!
The second week in Mexico City was also full of fun activities. First up, I visited Six Flags Mexico City – which, only opened at 5pm. So, we ended up going on all the rollercoasters either at sunset or in the dark. Plus, the theme park is still pretty much in the city, the views of the skyline were magical before dark.
Then, it was finally time for the event I'd been waiting for. We'd extended our stay in Mexico City just for this. Independence Day! The event is celebrated over two days. On the night of the 15 September, (ordinarily) 1000s of people gather in the Zocalo. Where, the president reads the Cry of Dolores – a speech from 1810 that triggered the Mexican War of Independence. Mexicans then, typically, party all night long at home and in the streets. And finally, there's a big parade on 16 September.
While COVID meant that the Zocalo was closed to the public, there was still a parade through the central streets of Mexico City. And, I love a parade, so I wasn't missing this! But, this was no ordinary parade! No, this was a full military showing! Over 15,000 people marched in the parade as well as service animals, helicopters, warship replicas, mobile kitchens and more! The parade went on for over 1.5 hours! We had to leave at this point as we were stood in the scorching sun burning! An absolutely surreal experience!
Experiencing my first earthquake
And, to top off a mad two weeks in Mexico City, I experienced my first ever earthquake. A 7.1 earthquake, no less!
But, as cool as it sounds to say you've been in an earthquake, it is genuinely a terrifying experience. Not one, that life in Western Europe has ever prepared me for. No one briefs you on the possibility of earthquake in Mexico when you arrive in the country. I didn't even know they had an early warning system. Such is the frequency of sirens in Mexico City, I didn't even notice that the alarm system was going off.
The first thing I remember feeling was gentle shaking. I was sat on a sofa and it suddenly felt like I was in a massage chair – like you get at airports and shopping centres. Then people are starting to look around, in a 'can you feel that too?' way. 'Is this an earthquake?' someone asked, ' I think it must be' I replied, based on the continued shaking.
The shaking continued and grew in magnitude. The whole building (at least 100 years old) was shaking side to side, we were on the 4th floor, with views out over central Mexico. Every dog in Mexico City was barking constantly. Flashes in the sky started to appear. I'd later learn that these are not visual sirens like I thought, but rather earthquake lightning. Caused by energy being released by the colossal movement of the tectonic plates.
The shaking stopped after a couple of minutes. There was an eerie silence for a few moments as people realised what they'd just experienced. Then, from the street, a Mariachi band starts playing. So typically Mexican, it was like an ending you'd expect in a film.
That night, I struggled to sleep, every alarm, siren, dog bark had me on edge – was another earthquake going to happen. This continued for some days. Knowing that Mexico City had its early warning system meant that I was on edge for every siren. If I heard several dogs barking, I'd Google and see if there'd been a low-magnitude earthquake.
It was the first time I'd felt unsafe in Mexico. And, the inability to be able to remove yourself from a situation where you're not comfortable was new to me. Nowhere feels safe when the actual earth (or 5-storey building) below your feet is moving.
Toluca (State of Mexico)
Next up, was the city of Toluca in the State of Mexico – just a 90-minute drive from Mexico City. The plan was to spend just two full days in Toluca: the Sunday seeing the town and the Monday climbing Nevado de Toluca (the main reason we were there).
But, as I was lying in bed at 11.30pm after the first full day (alarm set, hike snacks bought and packed), I found out that the volcano is closed on Mondays! Ridiculous! But, we weren't going to miss it, so booked another night! Tuesday is to be volcano day…
After finding out that the volcano was closed on Mondays, the website and various Facebook groups all said that trucks run from the park entrance to the trailhead. Given, that without transport it's a 4-hour walk between the two points, we'd be screwed if there weren't any trucks.
But, this is Mexico. So, it wasn't that much of a surprise to us to find out that there were, in fact, no trucks running. The security guard offered to drive us up for 1000 pesos (£35). Which, not only did we not even have but was outright ridiculous. With no other options, we started walking in the hope that we'd be able to hitchhike with the next passers-by.
As luck would have it, after just 5 minutes of walking we were able to hop in the back of a truck full of wild mushroom hunters. After a few stops to harvest giant mushrooms, they dropped us off half-way up the volcano. And, after just a few more minutes walking we were able to get a lift with some lovely people in their car all the way to the top!
After an interesting morning (and still with no idea how we'd get back to the town), we were finally at the start of the volcano hike! The first part of the walk is a fairly steep uphill climb to the crater rim. At 4000 metres above sea level, it was HARD. But, luckily, from there it's a downhill walk into the crater itself and around the lakes. And, the views were absolutely stunning! Totally worth the transport hassle and difficult climb.
While the crater of the volcano is 4000 metres above sea level, the peaks of the extinct volcano are over 4600 metres. And, the walls of the crater climb almost vertically upwards. That, coupled with the fact we were two of only a handful of people there that day, made it a unique experience. Sheltered from the wind, there was an eerie silence around the volcano. And, with 20+ degree heat still beating down, it was easy to forget I was 13,000 feet from sea level!
To top the day off, the lovely people who gave us a lift to the top also gave us a lift all the way back to Toluca!
Taxco (Guerrero State)
My first 3 nights in Taxco were spent in the centre of this unique place. A town in the mountains, where the distinctive all-white buildings climb the sides of the hills with narrow, winding streets.
Our Taxco adventures started with trying to get the town's cable car. But, when we arrived, it looked derelict. And, all the cars were on the ground – not even on the cable or in the station! With the power of Google, we quickly found out that two months before a cable had snapped! The fire service had to shimmy along the remaining cable to rescue the stranded – by making them slide down a rope to a not-yet-finished building where people were holding the other end of the rope! Three people had to be treated in hospital for panic!
On the second day, we visited the Pozas Azules de Atzala waterfalls and pools, located just outside of Taxco. Although, much of the day was spent waiting around – we waited half an hour for the collectivo to arrive and then another hour for it to leave, and it wasn't too dissimilar a waiting time on the way back!
DETAILED POST > > > Pozas Azules de Atzala (Taxco's Magnificient Waterfalls)
The final 3 nights in Taxco were a holiday from our travel life – and a birthday celebration! We stayed at the wonderful Hotel Montetaxco – located on the top of a hill, with panoramic views of the whole town! We were planning on going back to Mexico City for my birthday and getting a fancy hotel, but you get a lot more for your money in Taxco! Plus, as the hotel had a pool, we could just relax for a few days.
Our two-room suite was a welcome break from backpacker life. As well as having our own L-shaped sofa (a luxury in itself), there was also dressing gowns, two TVs and a bath with hydromassage jets. Bliss. Bliss, that was abruptly ended on our last morning when Adam was stung by a scorpion in the shower. The pharmacy advised going to the hospital, but we had a bus to Mexico City to catch! He lived to tell the tale.
Mexico City (Part 2)
If I'm getting up at 5am any day of the year, you can guarantee there's a good reason. But, if I'm getting up at 5am on my birthday, it's undoubtedly for something very special!
And, a sunrise hot air balloon over the ancient pyramids at Teotihuacan was just that! Despite the noise of the balloons, the flight is surprisingly peaceful. It's smooth – even at take-off and landing – and calm, with the many other balloons floating around you with a pastel-coloured sky in the background.
Plus, any activity that includes 8.30am champagne and 9.30am birthday cake is a winner with me!
As well as being a great place to celebrate my birthday, Mexico's capital was also the gateway to my next destinations. From Mexico City, I am heading north to the cities of San Miguel de Allende and Guanajuato!