(Weeks 11 to 14) State of Oaxaca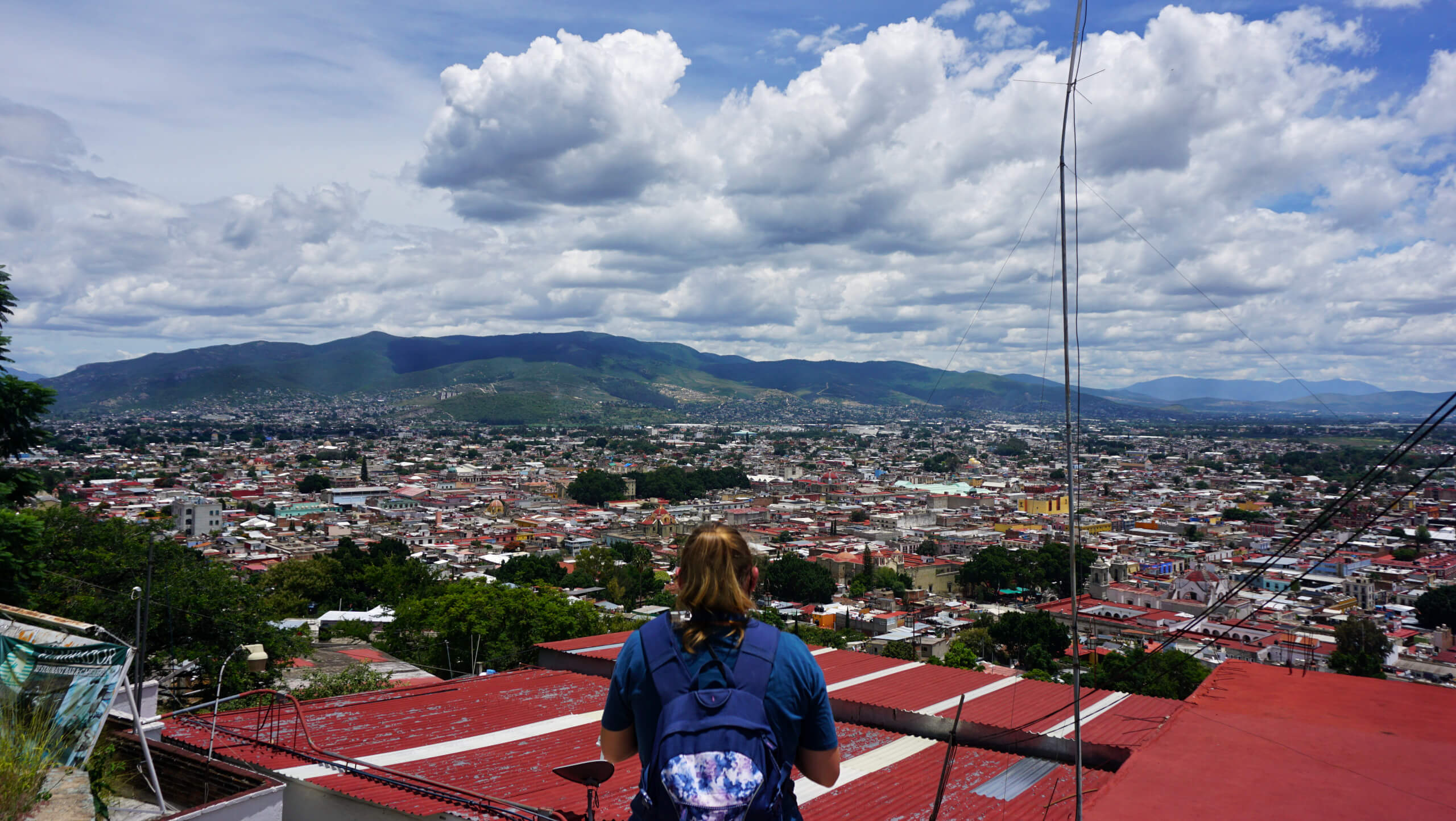 The southern states of Mexico have such varied landscapes. Jungles, mountains, beach towns and cities – often not that far from each other. And, one of the things that struck me most during this month in Oaxaca state was how quickly the landscape changes as you travel around. There were times that a drive of just a couple of hours would completely transport you. Hard to believe you were in the same country let alone the same state.
Some of the links below are affiliate links, meaning, at no additional cost to you, I may earn a small commission if you click through and make a qualifying purchase.
Puerto Escondido
My time in Oaxaca state started in the town of Puerto Escondido on Mexico's Pacific coast. Bright-eyed and bushy-tailed after a 13-hour night bus, the heat and humidity were in stark contrast to the cool climate of San Cristobal (at 2200 metres elevation). It was time to get the sun cream back out!
Of the 5 nights I spent in Puerto Escondido, three were at a hostel before deciding to treat ourselves and spending 2 nights in a hotel with a private beach club! With its beachfront swimming pool, sun loungers and restaurant, Hotel Suites Villasol was the perfect place to relax. Plus, it had high-speed WiFi – a rarity in Puerto Escondido.
You might think that a swimming pool on the beach seems a little unnecessary. But, the waves in Puerto Escondido are world-famous for surfing. If you so much as dip your toes in the water, there's a good chance you'll get wiped out by a wave! And, when it's 30 Celsius and humid as hell, cooling down in the water is a must.
But, undoubtedly, my favourite activity in Puerto Escondido was releasing a newborn baby turtle into the ocean. The turtles are only a few hours old when they're released, so they're absolutely tiny (and adorable). Life is tough for a baby turtle in the big, wide ocean, so you have to give them lots of good energy and luck. My turtle, who I called Jesse (nicknamed JFinz – if you know, you know), has been in the ocean for a month now. I think about them all the time and hope they're doing ok!
> > > RELATED POST: Playa Bacocho, Puerto Escondido (Complete Guide including Vivemar Turtle Release)
> > > RELATED POST: 17 Oaxaca Beaches You HAVE to Visit in 2022
> > > RELATED POST: Getting from Oaxaca to Puerto Escondido (2022 Transport Options)
Lagunas de Chacahua
An hour's drive (plus a boat ride) west of Puerto Escondido gets you to the beautiful and unspoiled paradise that is Lagunas de Chacahua. A remote national park with pristine beaches, a mountainous backdrop and hardly any infrastructure. No roads, no hot water, no telephone lines (only satellite WiFi), no phone signal. It's a place to be off the grid.
My life in this remote paradise was easy. Swim in the lagoon, eat in the restaurants on the beach and relax in the shade. Easy, until I almost ended up panic buying flights to the USA!
We'd been in Chacahua for three days when I saw an article online that all the beaches in Oaxaca were closing for the next few weeks and that all tourist-related activity would cease. Quickly followed by a second article that said the locals of Chacahua had evicted lots of tourists the day before we arrived.
With Chacahua being so remote we had no one to ask about how true it was or if it would even be implemented. So, I set about planning a trip to the USA in case we needed to leave! Luckily, our beautiful on-the-beach accommodation in Cabanas La Isla Chacahua had the best WiFi on the island.
In the end, we decided to head back to Puerto Escondido (after 5 nights in Chacahua as planned) to assess the situation. And, as it transpires, only half of the beaches there were closed and things were operating like normal! We decided to carry on with our plan to travel overland through Mexico. So, booked a night bus to Oaxaca City for the next day!
DETAILED POST > > > Lagunas de Chacahua, Oaxaca
Oaxaca City
Night buses are not great but they're an efficient and inevitable way of travelling when you're backpacking. Night buses in Mexico are just normal coaches with slightly recline-able seats, so they're not comfortable. Plus, there's a lot of quick accelerating and sudden braking as well as windy, bumpy roads. Puerto Escondido to Oaxaca City was my 4th night bus of the trip – and the one with the scariest experience to date.
At 3 o'clock in the morning, the bus suddenly stopped in the middle of the road, in the middle of nowhere. In front of us was a parked single pick-up-style car. The next thing I know, the bus driver is frantically talking (in Spanish) into his radio barely stopping for breath. This went on for at 5 minutes, while a man outside of the bus walked around occasionally shining a torch into the bus. To this day, I have no idea what the bus driver was saying. But panic is panic in any language. As soon as it started, it ended and we drove off again – still alive.
Oaxaca City turned out to be one of my favourite places in Mexico so far. It's like a slightly warmer version of San Cristobal. It's about 25 to 27 Celsius every day, there's good WiFi and there's plenty to see, do and eat. In total, I spent 2.5 weeks in Oaxaca City (with 3 days in the middle in San Jose del Pacifico – see below). I visited the impressive ruins at Monte Alban (pictured below). I climbed to viewpoints and wandered the charming streets. And, I played a lot of darts (badly) at Iguana Hostel. I could've stayed forever since the hostel had the best WiFi, actually hot showers and a perfect rooftop terrace with working areas and chilling areas.
San Jose del Pacifico
San Jose del Pacifico is a small mountain town in Oaxaca famous for two things. Being a place where magic mushrooms are legal (the Amsterdam of Oaxaca) and being a town above the clouds. The biggest downside to visiting however is you need to take a 3-hour minibus ride along narrow and windy mountain roads.
Sitting at 2500 metres of elevation, it was unsurprising that it rained pretty much the entire time I was there. And, with night time temperatures of 6 Celsius, it was certainly a shock to the system. I spent the three days wandering around the small town, with any slight incline leaving me absolutely reeling from the altitude.
On the last day, we finally had a few-hour break from the rain and climbed (slowly) up to the Mirador. A word that translates to viewpoint in English. And, oh boy, we were not left disappointed! The views were incredible. I was amazed by how quickly the landscape changed. One minute there'd be a wall of cloud before clearing up and having views of the surrounding mountain peaks.
> > > RELATED POST: Read my complete travel guide to San Jose del Pacifico
From San Jose, I headed back to Oaxaca City for a few nights to plan my next moves. After a month in Oaxaca, it's on to Puebla and then Mexico City!